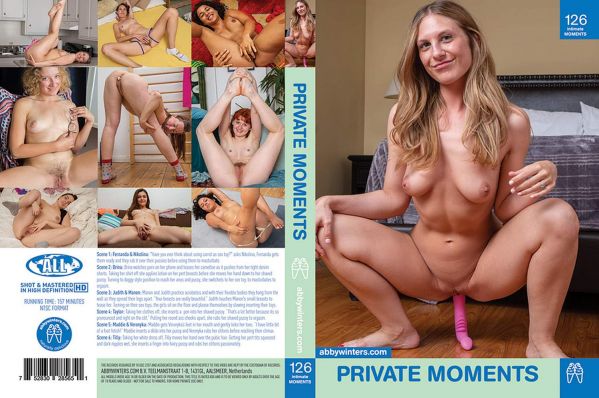 Production Year: 2020
Stars: Brina, Fernanda, Judith, Maddie (ii), Manon (i), Nikolina, Taylor (iii), Tilly, Veronyka
Categories: 18+ Teens, All Girl / Lesbian, Hairy, International, Masturbation, Prebooks, Sex Toy Play, WAM – Wet and Messy
Description
Scene 1: Fernanda & Nikolina: "Have you ever think about using carrot as sex toy?" asks Nikolina, Fernanda gets them ready and they rub it over their pussies before using them to masturbate.
Scene 2: Brina: Brina watches porn on her phone and teases her cameltoe as it pushes from her tight denim shorts. Taking her shirt off she applies lotion on her pert breasts before she moves her hand down to her shaved pussy. Turning to doggy style position to reach her anus and pussy, she switchets to her sex toy, to masturbates to orgasm.
Scene 3: Judith & Manon: Manon and Judith practice acrobatics and with their flexible bodies they hang from the wall as they spread their legs apart. "Your breasts are really beautiful." Judith touches Manon's small breasts to tease her. Turning on their sex toys, the girls sit on the floor and please themselves by slowing inserting their toys.
Scene 4: Taylor: Taking her clothes off, she inserts a pen into her shaved pussy. "That's a lot better because its so pronounced and right on the clit." Pulling her round ass cheeks apart, she rubs her shaved pussy to orgasm.
Scene 5: Maddie & Veronyka: Maddie gets Veronyka's feet in her mouth and gently licks her toes. "I have little bit of a foot fetish!" Maddie inserts a dildo into her pussy and Veronyka rubs her clitoris before reaching their climax.
Scene 6: Tilly: Taking her white dress off, Tilly moves her hand over the pubic hair. Getting her pert tits squeezed and dark nipples wet, she inserts a finger into hairy pussy and rubs her clitoris passionately.
2:37:18 | 856×480 | mp4 | 2413Mb